We spent one night in Okefenokee Pastimes Cabins & Campground, a really nice smaller family run campground.  It features 12 pull through RV sites a bunch of tent camping sites, a dump station, and a small store with the nicest and cleanest bathrooms and showers I've seen in a campground.  It's very much rural Georgia, but a great setting surrounded by huge pine trees with level site and full hookups.  It was very quiet after dark, but in the late afternoon and early morning you could hear a lot of hunting dogs out in the swamp doing their thing.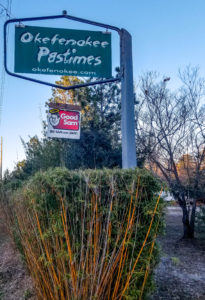 The bonus about this campground is, it's directly across the street from the East entrance to the Okefenokee National Wildlife Refuge!  The Okefenokee National Wildlife Refuge is a 402,000‑acre located in Southern Georgia and Northern Florida.  The refuge was established in 1937 to protect a majority of the 438,000 acre Okefenokee Swamp.  The name "Okefenokee" is a Native American word meaning "trembling earth."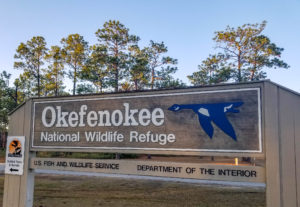 There are a ton of fun things to do and see in Okefenokee, more than 100 miles of canoeing/kayaking trails, a 1.5 mile board walk, Swamp Island Drive – a 9-mile driving, biking and walking loop, and a concession with guided boat tours, canoe/kayak and boat rental, extended tours, overnight guiding on our Wilderness Canoe Platforms, and more.  This is a place we definitely put down on our list for a longer return visit!